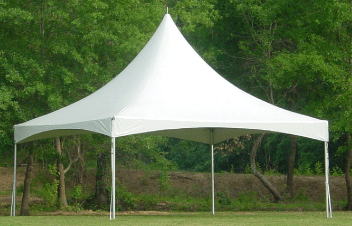 20' x 20' High Peak Tent (Seats 50)
September
SALE! While regular price is $349, rent this tent for $75 OFF during September!
Gorgous and elegent high peak tent.
Fits a maximum of 50 people (i.e. 50 chairs
). You can fit a maximum of 5 8' Rectangle Tables
or 4 60" Round Tables.
Check out the picture below to see a pictures of a both a 20x40 and a 20x60!
Sidewalls are extra. Picture below is just an example of high peak tents. This is does not include anything you see below, except the tent. All items all rented seperatly. Click here to rent out sidewalls
for your tent. Click here to rent out tables
. Click here to rent out chairs.